Are you looking to improve your SEO strategy and website's search engine visibility? This comprehensive guide on measuring off-page metrics can help you focus on the most important SEO metrics and the vital off-page SEO metrics that can enhance your website's search engine performance and drive more traffic.
From link building and content marketing to social media marketing and keyword optimization, this guide covers the essential off-page metrics you need to monitor and track. It also includes an overview of the crucial SEO tools to optimize your campaigns effectively.
Google's algorithm will process around 3.5 billion searches per day which is a whole lot of search visibility and share of voice to capture. Still, the downside is Nine out of ten published blog pages never see any organic search traffic, unfortunately.
Even if you are an experienced SEO professional or a beginner, it is crucial to stay up-to-date with the latest trends and techniques in the world of SEO.
By mastering these metrics and using the right SEO tools, you can make data-driven decisions for your SEO efforts that improve your website's visibility, ranking, and traffic. 
So, how can we increase search engine visibility and attract more visitors to a website? We start by measuring off-page metrics. Then, follow the best practices, and adjust strategies based on results. If these tactics are done correctly and consistently, you will see your website climb the search engine rankings and achieve long-term success.
How is Search Engine Visibility Measured?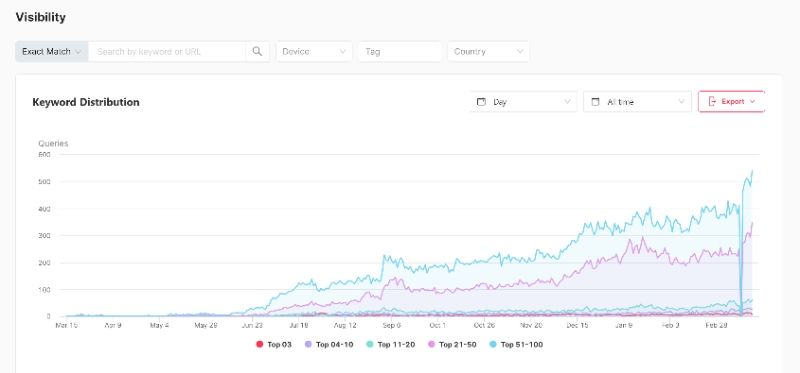 ​We calculate the ranking position, keywords, and average search volume to measure SEO visibility. We base it on a click-through rate that considers each ranking position, ensuring that higher-ranking keywords receive the appropriate weight in the score.
Search visibility is achieved by optimizing a website for keywords and increasing its ranking on search engine results pages. 
First, we target keyword rankings, analyze the total keywords, and estimate click-through rates (C.T.R.) for keywords related to each ranking position to calculate this. 
Then, we divide the total number of C.T.R.s by the total number of keywords to produce a percentage score ranging from 0% to 100%.
How do you measure off-page SEO?
Have you ever considered effectively measuring off-page SEO, thereby enhancing your website's visibility on search engine results pages (SERPs)? It's a strategic combination of tools, with Google Search Console and Google Analytics playing a pivotal role in any successful SEO campaign. To deepen our understanding, we must delve into advanced SEO software tools, providing an intricate perspective on your webpage's popularity through a comprehensive analysis of key SEO metrics.
Consider the total count of backlinks from indexed pages that share relevance with your site, the precision of your anchor text, the freshness and diversity of your links, and the degree of social sharing. These are all important SEO metrics forming the structure of your off-page SEO.
By incorporating these metrics into your SEO strategy, we're doing more than simply aiming to drive organic traffic to your site. We're strategizing to attract the right kind of visitors. By enhancing these aspects, you're set to improve your search visibility, which could potentially lead to a higher click-through rate (CTR) and a lower bounce rate – both critical factors for a successful SEO campaign.
Are you prepared to elevate your SEO performance by tracking these crucial SEO metrics with Google Search Console and Google Analytics? Remember, improving off-page SEO is vital to a comprehensive SEO toolkit. With the right tools and strategies, your site can perform based on key metrics, rank higher on the search engine results page (SERP), and improve your SERP visibility.
It's also worth noting that this strategy helps improve your overall site authority and the visibility of your site content. And let's not forget the importance of link building and maintaining a low page load time. These factors, alongside others like keeping track of exit pages, ensuring visual stability, and monitoring your site's position with a position tracking tool, contribute to an effective SEO campaign.
What Are Off-Page SEO Metrics?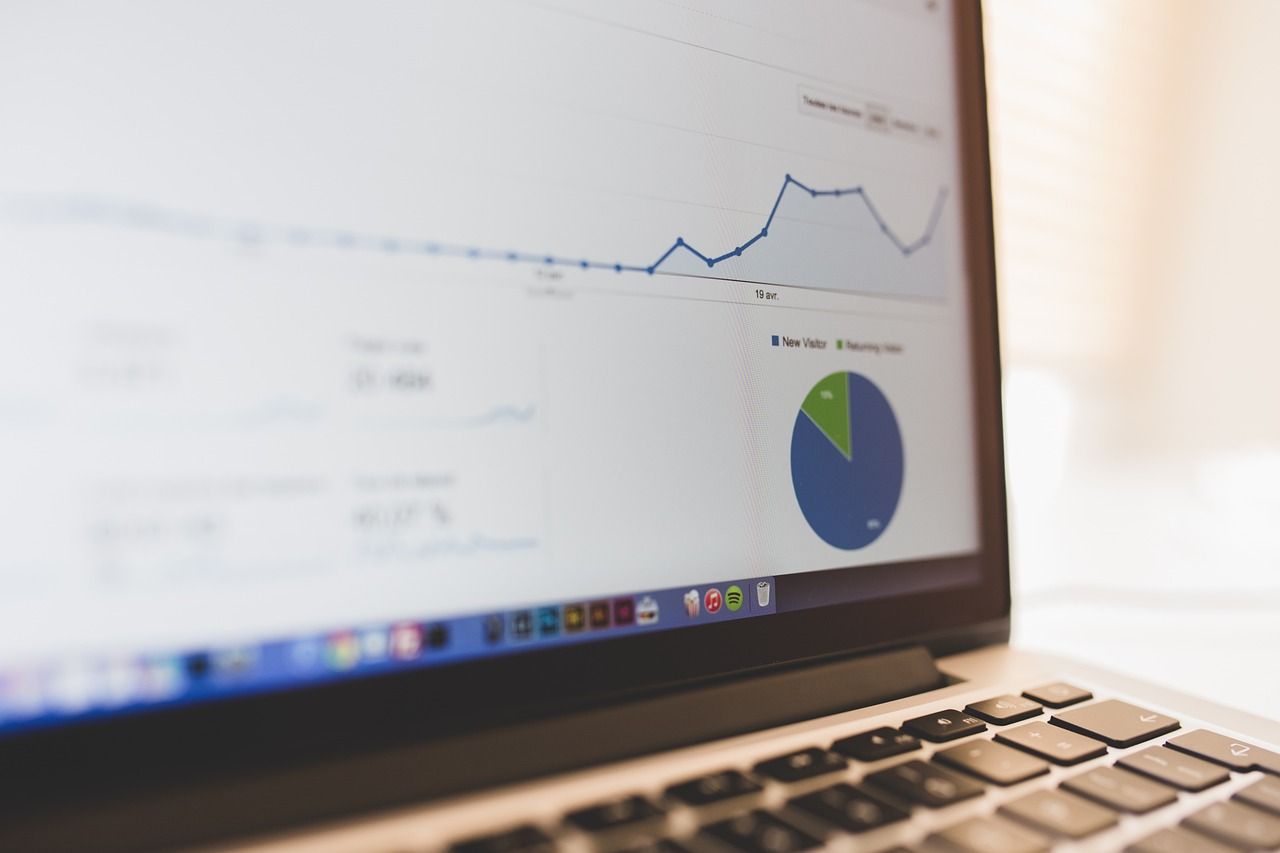 Off-page SEO metrics, your website's secret superstar, are the stealthy indicators of your website's visibility on search engine results pages (SERPs). These unsung heroes work behind the scenes to elevate your website's online presence. On-page SEO metrics hone in on your website's content and technical aspects, while off-page metrics have an external focus, encompassing backlinks, social signals, and domain authority.
Monitoring off-page data is like having a personal watchdog for your SEO strategy. It enables you to sniff out essential SEO metrics and keep a pulse on progress. And you know what's the best part? You can use Google Analytics to track these metrics for free! It's your key to unlocking the mysteries of backlinks, referring domains, anchor text distribution, social signals, and brand mentions. Plus, it's your golden ticket to understanding the health of your website!
Take backlinks, for example; a thriving backlink profile has a healthy mix of links from a variety of high-authority websites. And a well-balanced anchor text distribution avoids over-optimization and makes your site more appealing to search engines. So, with a deeper understanding of these metrics and Google Search Console at your fingertips, you're not just playing the game; you're acing it!
Boosting off-page SEO metrics can skyrocket your website's visibility on SERPs, supercharge your organic traffic, and broaden your audience reach. Imagine transforming from being the talk of the town to a global sensation! That's why tracking and analyzing these metrics with SEO tools, Google Search Console, and Google Analytics is crucial.
Here's a nugget of wisdom: Make it a routine to do a monthly review of these metrics. Tools like SEMrush or Moz can offer you an analytical deep dive. This simple habit, coupled with monitoring core web vitals, Google Analytics, will help you grasp how search engines perceive your website, enabling you to make proactive adjustments to boost your visibility.
Remember, in the dynamic landscape of SEO, staying ahead is not an option; it's a necessity. And with a firm grasp on off-page metrics and Google Search Console by your side, you're already winning the race!"
Why Is It Important to Monitor Off-Page SEO Metrics?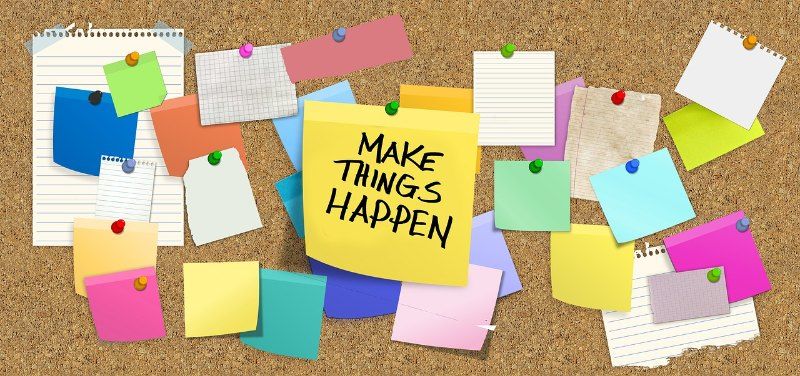 Did you know that, on average, people click through to the first page of Google about 28.5% of the time? But did you know that off-page SEO is often overlooked by digital marketers? These metrics are like hidden gems for understanding how search engines view and rank your website, and they're essential for your online success.
Search engine optimization (SEO) is a complex process that requires a comprehensive understanding of various metrics. It's crucial to increase the visibility of your online business in search engine results, and drive e-commerce sales, as this drives new customer acquisition and organic traffic and enhances website visibility.
Keeping an eye on organic traffic is crucial for evaluating the success of your SEO efforts and tracking progress. However, it's also essential to focus on relevant metrics and avoid vanity metrics that may seem impressive but provide little value or impact.
Prioritizing metrics such as keyword rankings, traffic, engagement, leads, orders, revenue, and authority can give you a superior return on investment (ROI) for your marketing budget. By comprehending the interconnection between visibility metrics and business objectives, companies can align the appropriate metrics to business goals, enhance their organic search performance, and attain the ultimate goal of ranking on the first page of Google, preferably near the top.
Monitoring off-page SEO metrics is crucial for assessing the success of your website in organic search results and gaining valuable insights into enhancing organic traffic and visibility. In addition, it's vital to be vigilant of potential risks to your existing traffic and revenue by closely monitoring your SEO performance.
Ensuring a robust online presence is critical for the sustainability of any business, and maintaining visibility in search engine results pages is essential. Regardless of how exceptional your services, content, or customer service may be, it's incredibly challenging to maintain a thriving business without showing up on Google.
A dip in search traffic could indicate areas for improvement in your SEO strategies, such as inadequate website indexing or slow loading times. Businesses can significantly increase their return on marketing investment by focusing on relevant SEO success metrics like rankings, traffic, engagement, leads, orders, revenue, and authority (ROI).
It all starts with having relevant pages on your website and analyzing crucial data points such as domain authority, backlinks, referring domains, anchor text distribution, social signals, and brand mentions. By keeping a close eye on the effectiveness of your off-page strategies, you can ensure that you're attracting organic traffic to your site and achieving your online goals.
9 Essential Off-Page SEO Metrics to Track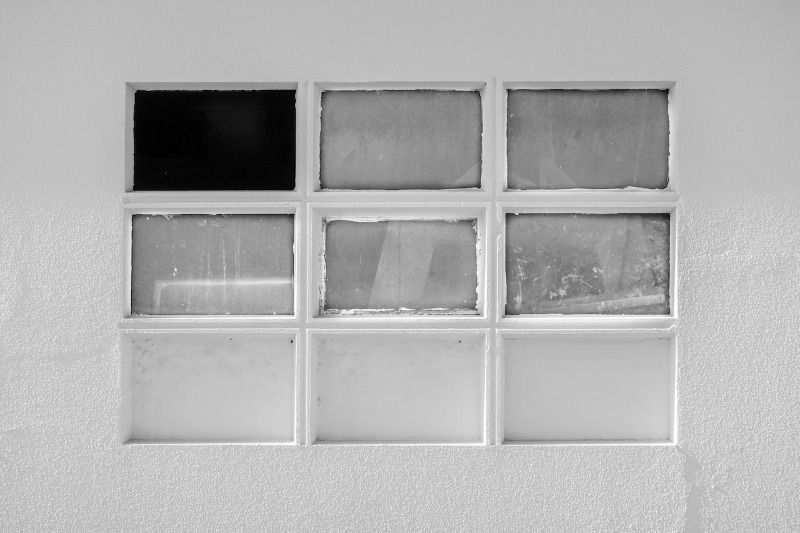 Off-page SEO metrics are like a compass for businesses, helping them navigate the ever-changing landscape of search engine optimization (SEO). Companies can stay ahead of the competition by regularly monitoring these nine essential off-page SEO metrics while maximizing their search visibility and organic traffic. This is a crucial step for your SEO efforts. 
1. Domain Authority
Domain Authority (DA) is like a superpower of validating relevancy for websites, measuring their strength and potential to rank. Although a fictitious number given by SEO software suites, it is a way to gauge the number of backlinks a website has to quantify its authority. We calculate domain authority by considering the number of backlinks, the quality of referring domains, and other relevant factors.
You need to use link-building methods and improve content quality and technical SEO elements to give your website an edge in search visibility and organic traffic. With the right effort, Domain Authority can be your ally in boosting success online.
2. Backlinks
Backlinks are connections, similar to a spider's web, that link external sources to your website. These links are crucial for SEO as they indicate your site's authority and can enhance its performance. It is worth noting that search engines track do-follow backlinks but not no-follow links.
What is the best way to improve them? Link building and creating content that stands out from the crowd and attracts links.
3. Referring Domains
A website receives incoming links from different domains, comprising the total number of referring domains. They are an essential SEO metric, giving insight into how far and wide a website's content reaches. By tracking these referring domains, businesses can better understand their link-building efforts and spot potential opportunities for link-building.
4. Anchor Text Distribution
Anchor text is like a link's signpost, providing search engines context and direction. It's an essential part of SEO, helping search engines understand the topical relevance of content on a particular page. Anchor text is also crucial for SEO; it tells search engines what the linked page is about – so ensure an appropriate distribution of anchor texts without keyword stuffing!
Following best practices of anchor links helps distribute anchor text, ensuring that it accurately matches the content it links to. A properly optimized anchor link helps search engines better understand the content of your website or page and can boost your SEO performance by making your site appear more natural to search engine algorithms and boosting your SEO performance.
5. Social Signals
Social signals are like footprints showing how much engagement a website or page gets on social media. They can affect SEO performance by E.E.A.T. or experience, expertise, authority, and trust equate to content relevancy, helping to increase the reach and visibility of a website or page. What kind of engagement? Likes, shares, retweets, comments – you name it!
Tracking these signals is vital for businesses who want to understand their impact on SEO performance. When ranking, This is because Google considers the amount of interaction with a website or page. Therefore, tracking and improving social signals should be the top priority if you're looking to boost your rankings. In addition, monitoring them gives valuable insight into how people engage with your content – which helps create more targeted campaigns in the future.
The most common types of social signals are Twitter, Facebook, and LinkedIn. You can track them using analytics tools such as Google Analytics or manually counting likes and shares per post/page.
6. Brand Mentions
We use 'brand mentions' to refer to situations when a website gets mentioned without being linked. They can help businesses track brand awareness, engagement, and SEO performance. You can find them on websites, blogs, and social media platforms – tools like:
But why are they important for SEO? Well, tracking brand mentions helps you identify potential opportunities for link-building. Plus, it gives you insights into which topics your audience likes so you can create more targeted content.
So if you want to understand your market visibility better, tracking brand mentions is vital! It'll help inform your content and give you those all-important link-building opportunities.
7. Link Velocity
Link velocity is a metric used to measure how quickly a website gains or loses backlinks. It's an essential tool for SEO performance, helping businesses understand which link-building strategies are working and which aren't.
But that's not all – tracking link velocity can also help identify potential issues, like sudden drops in backlinks. This way, businesses can make informed decisions about their link-building efforts and stay ahead of any threats. So why wait? Start tracking your link velocity today and get the insights you need to succeed!
8. Competitor Analysis
Competitor analysis is like a chess game – knowing your opponent is essential to winning. This process involves assessing a business's competitors to identify their strengths and weaknesses, which is vital for SEO success.
Businesses can use various tools to gain an understanding of competitor performance. These tools include using S.E.R.P.s to find competing websites and rankings, backlink analysis tools to discover referring domains, keyword gap analysis to uncover competitors' ranking keywords, social media monitoring for engagement tracking, analytics tools for website traffic insights, and market research for brand awareness.
9. S.E.R.P. Rankings
S.E.R.P. rankings are the position of a website's pages in the search engine results pages (S.E.R.P.s). There are several options for monitoring S.E.R.P. rankings. The most popular and free option is Google Search Console. 
Paid versions include Moz Pro, which monitors search visibility with a score that applies an estimated click-through rate (C.T.R.) for each keyword based on where you rank, then averages the different C.T.R.s to arrive at a single metric. 
Of course, the ultimate goal when tracking Google rankings for keywords is to get on the first-page search result and as close to the top of Google as possible.
You can use keyword gap analysis as an excellent tool to identify the keywords in which you're ranking strongly, the keywords where you're weak, and the untapped ones where your competitors are earning search engine rankings. You can also use the referring domains report in Ahrefs' Site Explorer to identify websites that link to a domain.
By tracking S.E.R.P. rankings and other off-page SEO metrics, businesses can better understand their SEO performance, make informed decisions about their SEO strategies, and adjust accordingly.
Additional Steps to Improve Your Off-Page SEO Metrics
How can businesses make sure they're heading in the right direction? Optimizing their website for search engine visibility translates into the share of voice in search engine results. 
Including:
Crawlability of a website– For search engines to index a website, the website must be easily crawlable. Under legacy tools, you can analyze crawl metrics in the Google search console.
Technical Optimization– Technical issues like broken links or duplicate pages could be better for a website experience first and foremost. In addition, they can easily cause speed bumps to search engine spiders when crawling your website, and having a well-structured sitemap so you know where you're going! Here you can also monitor basic technical SEO issues with Google search console.
On-page optimization- Search engines are considered semantic, and Google is a semantic search engine. So what does this mean? It means it works by natural language processing methods and seeks to understand the meaning and intent behind a search query to offer the best-matched pages in search results. 
Optimizing your content is just as important for search engine visibility, if not more important. It establishes a quality website experience, improves topical authority, and is ultimately a better user experience.
Google tips to optimize your content– From Think with Google
Final Thoughts
Off-page metrics are integral to any successful Search Engine Optimization strategy to measure performance and recognize potential threats and opportunities. 
By understanding the potential of each off-page SEO metric, businesses can reap the rewards of higher organic search visibility and organic traffic. From domain authority to brand mentions, monitoring all nine off-page SEO metrics through link building and content optimization is essential. 
Utilizing the right tracking tools, monitoring Google search console, and Google Analytics combined with having the correct link-building strategy are vital indicators for success in SEO visibility, providing businesses with insights into their online presence and competition. Additionally, monitoring backlinks and anchor text is essential to gain a competitive advantage. 
Given the importance of these off-page SEO metrics, businesses need to be aware that analytics can vary over time; focusing on measurement and improvement is an ongoing process. 
Finally, improving your off-page SEO metrics is only half of the battle. To succeed, you need to maximize your internal SEO strategies as well. By implementing the right strategy and regularly monitoring off-page SEO metrics, businesses can increase their chances of achieving high organic search visibility and organic traffic.