Contra

is a freelancing platform created for freelancers and business owners to connect with each other. Unlike many leading platforms that provide similar services, Contra doesn't charge a commission from freelancers. The platform is open to people from several industries and is not limited to certain niches.
Since Contra is a relatively new entity in the market, it is important to know more about what it offers and how it works. Go through our detailed review of Contra to understand how it helps freelancers find projects, meet new clients, and earn an income according to their terms.
| | |
| --- | --- |
| Pricing Model | 100% commission-free |
| Screening | Yes |
| Account Verification | Yes |
| Customer Support | Yes |
| Refunds | Yes (conditions apply) |
| Dispute Handling | Yes |
| Niche | Multiple (Video & Animation, Engineering, Social Media & Marketing, Design, Writing) |
| Premium Features | Not Yet |
| Account Deletion | Yes (30-day processing period with an option to cancel the request and retain the account) |
What is Contra?
Ben Huffman, the founder of Contra, says that the platform will transform the future of teamwork. Contra has been designed to provide freelancers and independent workers with a global community to promote themselves and gain more clients.
Professionals create profiles on Contra to present their skills, knowledge, and expertise to the world at large. The platform lets freelancers monetize their talents and work with a multitude of clients from different countries.
What sets Contra apart from other third-party freelancing websites is the ability to add more details to the profile and the 100% commission-free payment model.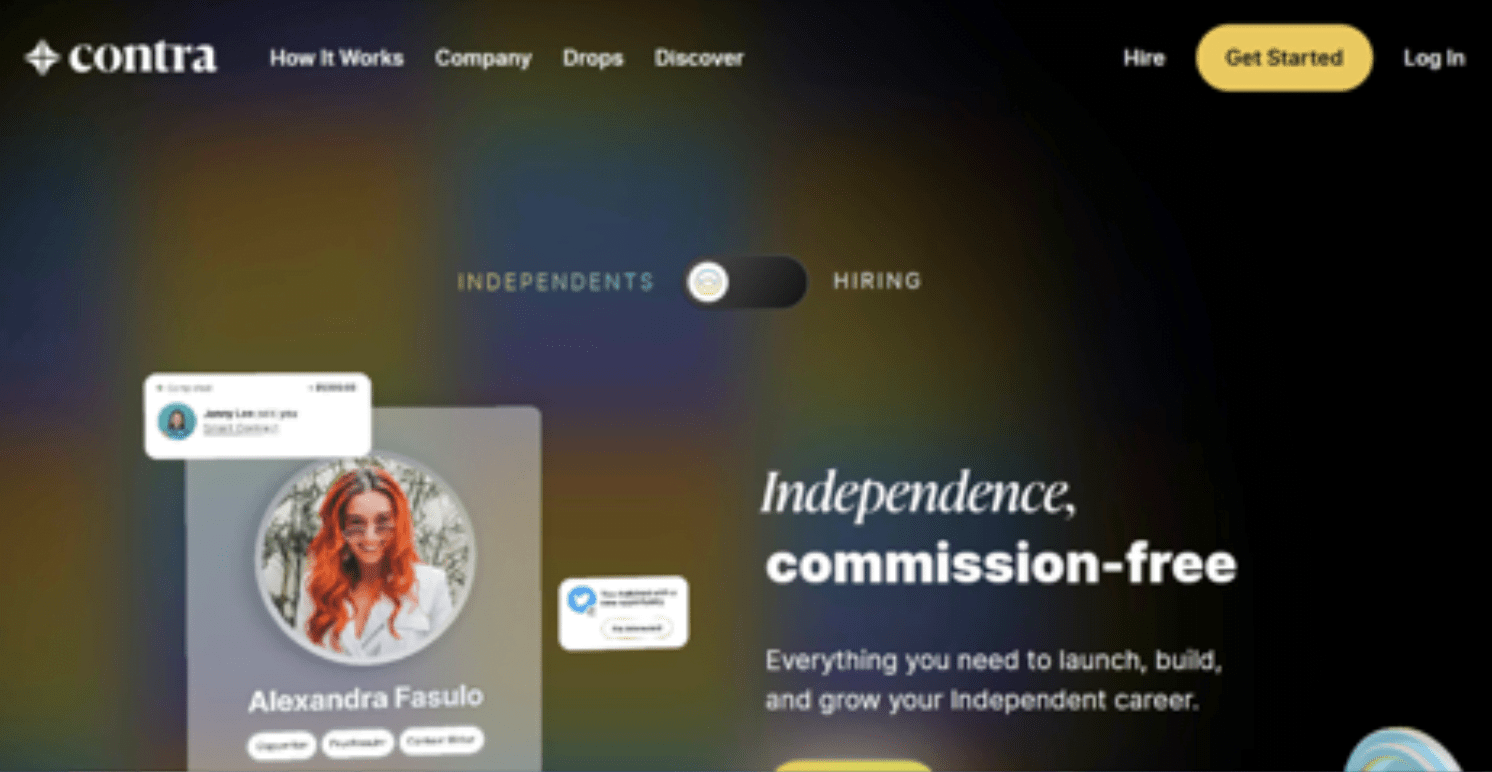 Firstly, a detailed profile allows freelancers to showcase their skills, talk about their previous projects, and explain what they achieved. This presents a clear picture to clients and makes it easier to find work from relevant industries.
Secondly, the commission-free model ensures that freelancers don't have to take a pay cut for using Contra. They don't have to pay a platform fee to use Contra to find work. The platform calls itself an independent-centric community (where 'independent' refers to freelancers) and a means to use digital services for teamwork.
Ben Huffman says he aims to create a high-quality referral network of independent professionals through Contra. The platform allows freelancers to build a network by working with others (collaborators). This information can be added to their Contra profiles and is mutually beneficial for the freelancers who worked on the same project.
The platform was mentioned in a Forbes article from 2020 as a promising and new kind of freelancing community. In recent news, Contra was named in the Top 50 on Quartz's Best Companies for Remote Workers 2022 too.
How Contra Works
Contra is similar yet different from other freelancing platforms. It caters to freelancers and businesses/ teams (clients). The platform creates a place for business owners to find talent to complete their projects and for freelancers to choose projects they want to work on. It allows both parties to post their details, communicate with each other, and make monetary transactions.
Contra can be used by a professional from any industry or niche. Let's read how the platform works for freelancers and business owners/ clients.
For Freelancers
Anyone over the age of sixteen can join Contra. The platform verifies accounts when the freelancer provides a valid ID (Social Security, etc.) as proof. The ID is also required to set up payment options.
Once a freelancer joins the platform, it's time to create a profile and add services, tools, past experiences, etc. Services are nothing but the skills and expertise the professional offers to the clients. The Services tab in the freelancer's profile has the following information:
Skill/ Service mentioned as a Title

Range of services included

The tools used to provide the services

Type of Fee charged

Delivery timeline (not mandatory)

Deliverables and other details

Links to previous projects
Freelancers can charge for the projects in different ways. They can set a fixed amount per project or charge a fixed rate per week. The third option is flexible charging, which depends on the complexity of the project.
Payments
Contra uses Stripe for all payouts. Professionals will receive the full amount as agreed for the project. The platform allows various payment methods. Freelancers can add bank account details, debit card information, or accept crypto payments (USDC). The developers have created a detailed document for freelancers to set up the payment method based on the country of residence.
Analytics
Freelancers don't just jump from one project to another. They have to promote themselves through personal branding and networking. Contra offers data analytics to freelancers to help them keep track of their progress on the platform.
The number of profile visits and how clients discovered the freelancer

The number of views/ clicks on projects

The number of views for services

The number of people who sent inquiries or contacted the freelancer
By tracking this information, the freelancer can make the necessary changes to their profile and attract more clients from relevant domains. This is a useful tool for professionals to streamline their profiles and attract more opportunities.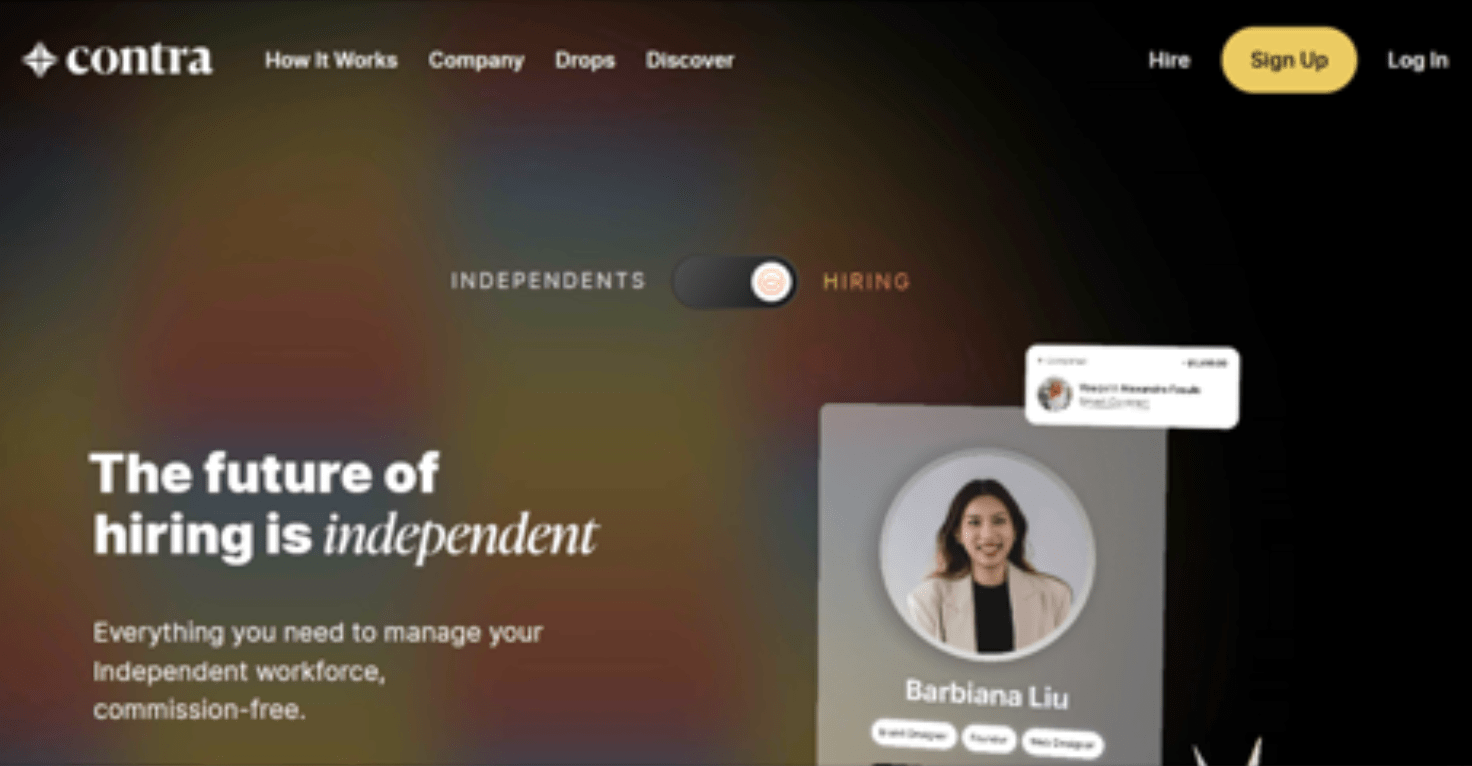 For Business Owners/ Agencies
A business owner, representative, or anyone who has projects that require professional work can create a client account on Contra. Similar to freelancer accounts, the clients can also be from any part of the world but should be over sixteen years of age.
Process
Create a profile and get it verified by providing a valid ID. Set up payment methods to send project fees to freelancers. Once the profile is complete, the client can start creating and posting projects on Contra. The platform doesn't offer an option for private projects at the time of the review. A project that requires high-level confidentiality can be handled outside the platform.
Payments
Clients can pay in fiat currency or crypto (USDC) at this point. The Stripe processing fee will be added to the client's payment amount for each transaction. The project fee has to be paid in full at the beginning of the project. The amount will be held with Contra until the project is completed and delivered by the freelancer. It will then be transferred to the freelancer's account.
Currently, Contra allows payments through the following:
Mastercard

American Express

Visa

Discover & Diners

Japan Credit Bureau (JCB)

China UnionPay (CUP)
The clients can file Project Dispute in case of issues with the project deliveries. The project can be canceled if the payment has not been made. Clients have to use Project Dispute if they made the payment.
More Choices
Contra allows the same person to be a freelancer and a client. Yes! A freelancer can post projects to hire other professionals for collaboration. Clients can take up freelancing work to earn some money on the side. Simply switch the account from one to another as and when necessary.
Clients should add the billing method and payment information before posting an opportunity (project). This is a one-time process. Contra also allows clients to create Milestone projects for large works. A Milestone project is divided into smaller parts with specific deliverables and due dates for each part.
Posting a project and hiring freelancers is free of charge. Clients only have to pay the Stripe transaction fee at this point. The project payment can be determined the same way a freelancer charges for the services.
​​What do the Terms on Contra's Website Mean?
A quick look at the Contra website will show that the platform has its own terminology for certain things. Listed below are some common Contra terms.
Clients- Business owners, agents, representatives, etc., anyone who posts projects

Deliverables- Work that has to b delivered to the client

Independents- Freelancers

Opportunities- Offers/ invitations to paid projects, remote work, etc.

Projects- past works completed by the freelancers

Proposal- project contract

Wallet- where monetary transactions occur
Advantages of Using Contra
Contra has several advantages to offer to freelancers and clients/ business owners. In this section, we'll look at what makes Contra a noteworthy and attractive platform in the freelancing industry.
For Freelancers
Contra is among the handful of freelancing platforms that don't charge a commission from professionals for using the site to monetize their skills. This allows freelancers to retain their earnings while also using the tools offered by Contra to expand their network.
Ben Huffman has called Contra a cross between LinkedIn and Shopify. The platform allows professionals to build and grow their network through connections, referrals, and collaborations. When a freelancer collaborates with another on an important project, the details can be updated on their profiles. This brings equal attention to both profiles, thus increasing the chances of getting more such projects.
The verified tick mark beside a person's name has a lot of value. Don't we see it on social media? Similarly, a profile verified by Contra implies that the freelancer can be trusted with a project.
Crypto has gradually entered the mainstream market. Professionals who use cryptocurrency can accept payments in the same through Contra. Though the platform currently accepts only USDC crypto, it is working on providing more options in the future. This is a clear indication that Contra is aligned with the latest market trends and user demands.
We discussed this in detail in the previous section. Freelancers can use this free analytical tool to rewrite their services, change display pictures, and make their profiles stand out in their domain areas.
For Business Owners/ Agencies
Why pay money to the platform when offering a job opportunity to freelancers? Contra doesn't charge clients to list opportunities and paid projects. While this aspect may change over the years, the services are free when the review is written.
If a business owner/ client deals with different types of projects, there's no need to join different platforms to find freelancers. Contra has professionals from multiple fields and niches. The size/ complexity of the project is also not a concern.
A client may not want to hire just one freelancer to work on a mega project. In such instances, it can be posted as a Milestone project with the work divided into individual subsections. Freelancers can work on each subsection and deliver it according to the deadline. Furthermore, the client has to pay for each subsection separately rather than the entire amount.
Common Advantages
Contra has more benefits to offer to both parties. Let's check out what those are.
Contra uses Stripe for all payments through the platform. Stripe is a Level 1 PCI-certified third-party service provider. The platform also mentions that it doesn't sell users' data. The data collected is used for verification and to enhance user experience.
Project Dispute is a service that allows clients and freelancers to sort out an issue with the project. For example, the client can use this service when they feel deliverables are not up to mark or don't meet the project requirements. The Contra team will personally look into the matter and offer a solution. This is strictly on a case-by-case basis.
Why can't freelancers post work opportunities for others? Why can't clients turn into freelancers and grab a project they like? Well, Contra makes it happen. Users can create either account first and add another anytime they want. There's an option to switch between profiles. A freelancer can become a client and vice versa.
The platform has a chat option for freelancers and clients to communicate and discuss the details of the project. Clients can get in touch with freelancers by sending them a message through the Inquire option on the profiles. There's no need to share personal contact information with the other party. All communication can happen through Contra.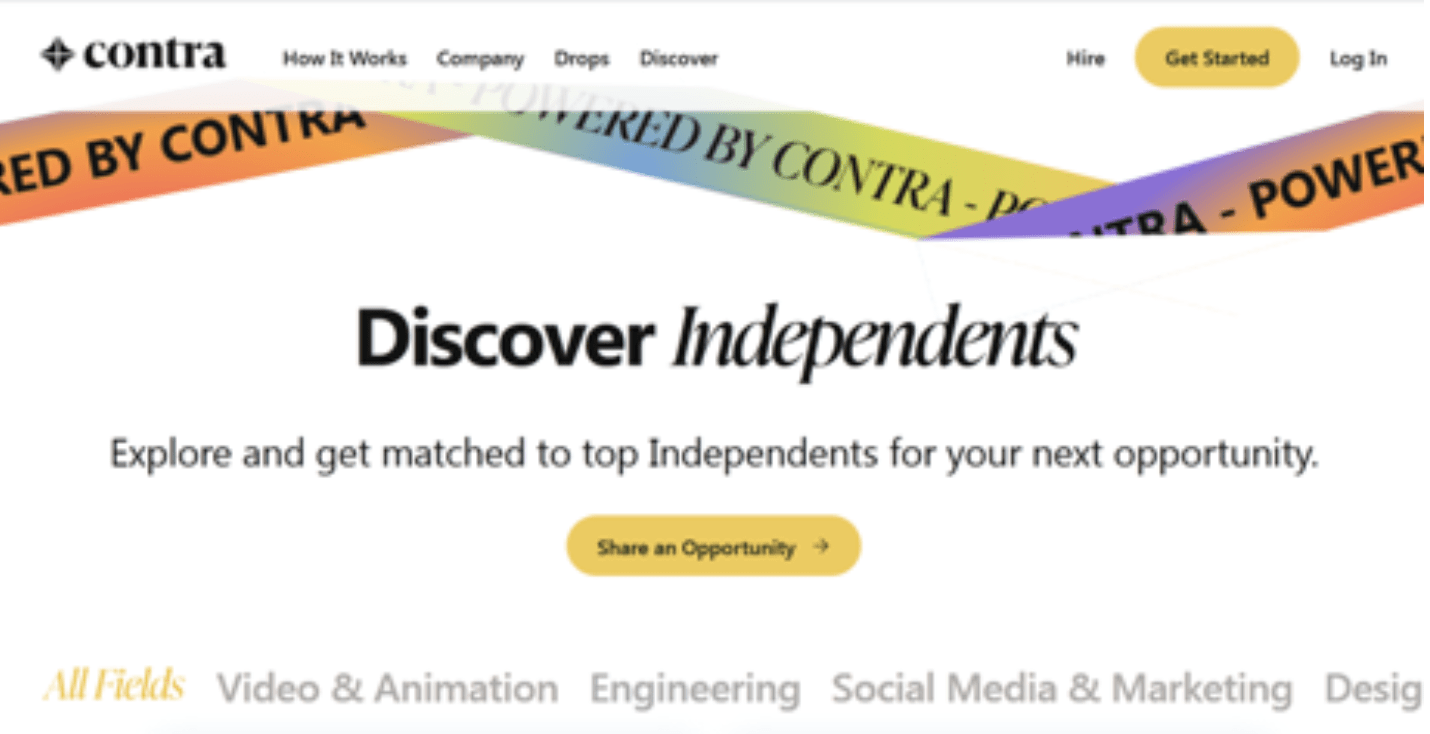 Disadvantages of Using Contra
No platform is perfect, and Contra isn't an exception to this. It has its share of disadvantages, which we discussed below.
For Freelancers
Compared to many other freelancing platforms, Contra is new in the market and has yet to touch the peak stage. It is a growing platform with a few issues in design, website interface, etc. The team is working on it, but things do take time.
Unlike Fiverr or Upwork, Contra doesn't have unlimited opportunities to choose from. A freelancer may not yet earn enough money by limiting their presence on this platform.
For Business Owners/ Agencies
No Option for Private Projects
A disadvantage for clients is that they cannot yet make project details private. If a client has a project that requires NDA, it cannot be posted on Contra. The platform doesn't have features/ services to hide certain details or make the project visible only to specific freelancers.
Non-Refundable Upfront Payments
Clients have to pay the entire project amount to Contra right at the beginning. The money will be transferred to freelancers after they deliver the work. It can cause problems if the client doesn't yet have the money or has to receive it from their client further up the line.
Common Disadvantages
Contra has a few payment options, but the list is not extensive. It can be an issue for users from some countries, especially if there are governmental restrictions.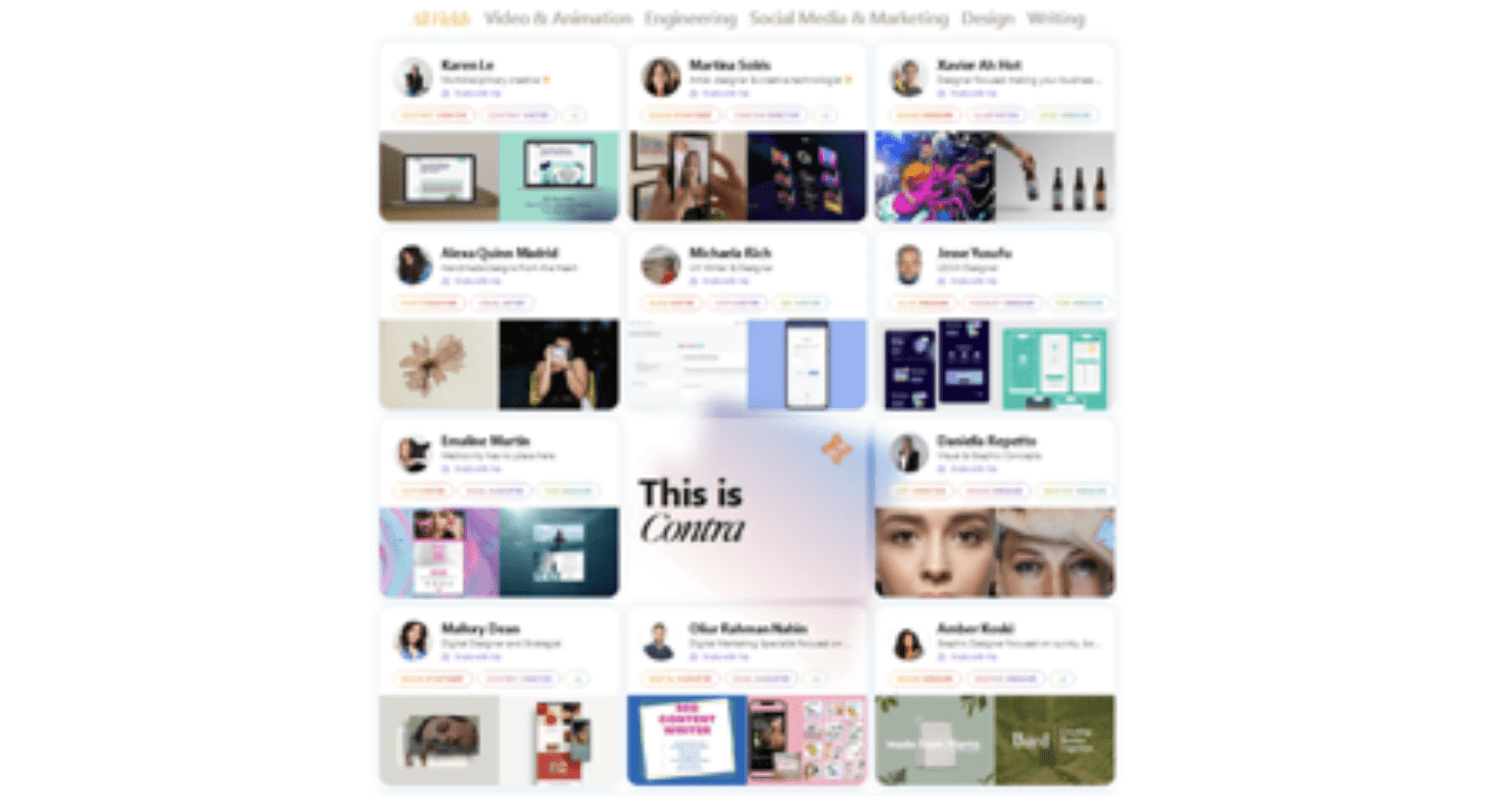 Safety Factors to Consider
There are a few safety aspects to consider when joining any new platform. Keep the following in mind to avoid getting into complicated situations.
The communication and payment between the freelancer and the client have to happen through the platform. Off-site dealings can cause trouble for either party if things don't go as planned.

Project-related disputes have to be settled by involving the platform. Contra will invite the necessary arbitrary parties to deal with the issue when required.

Make sure to post the project details correctly and clearly. Since Milestone projects cannot be edited, it is vital to provide correct information.

Freelancers have to double-check their work before delivering it to the clients. Ensure it is of the best quality to boost reputation and avoid payment issues.

Don't agree to make or accept payments outside Contra. All transactions have to go through the platform for safety purposes. This minimizes the risk of being scammed.
Final Words
Contra is a growing freelance platform with great ideas for the future. The 100% commission-free plan is the biggest attraction. The platform is working to include some premium features, which will be charged for monthly/ annual subscriptions. It also has a good customer support team to help users.
While Contra hasn't yet made a huge impact, it is too early to determine what could happen in the coming years. Make sure you read the Terms and Conditions before joining the platform.
Ref:
https://techcrunch.com/2021/02/23/contra-series-a/
https://contra.com/faq-independent
https://www.forbes.com/sites/jonyounger/2020/04/10/contra-and-other-platforms-are-building-a-new-kind-of-freelance-community/
https://www.reddit.com/r/freelanceWriters/comments/stk9a7/anyone_heard_of_used_a_platform_called_contra/
https://contra.com/p/ZNbl3PUR-guide-to-services