24 hours after joining Vettted Marketplace, Bradley Benner, CEO of Semantic Mastery and Semantic Links, made $770 selling his "Niche Relevant Links for Local SEO services."
30 days in, Bradley managed to sell near $5,000 in SEO services.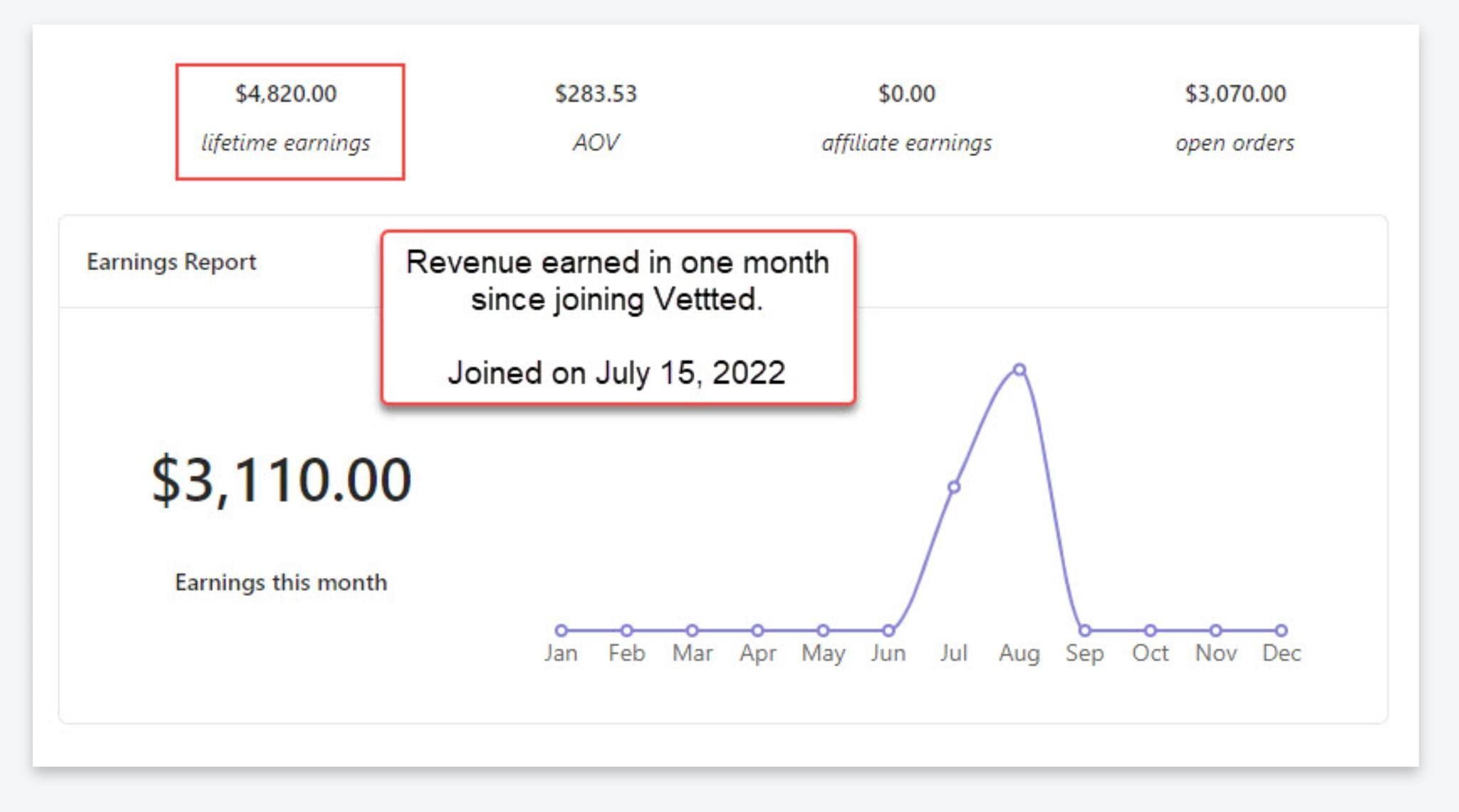 This article looks at Bradley Benner and his success in building a successful digital marketing business.
About Bradley Benner
Bradley Benner is the co-founder of Semantic Mastery and Semantic Links.
He's a successful digital marketer and SEO expert who has been in the industry for over ten years.
Bradley has built a successful business by helping businesses rank higher in search engines and get more website traffic.
Bradley jumped onto the digital bandwagon early in 2010 when he discovered that business marketing was moving online. He left his real estate career and started learning about SEO, social media, and SEO.
He then found his passion for internet marketing and created his digital marketing company, Bamboo Marketing.
A self-proclaimed digital marketing addict, Bradley is a renowned figure in the SEO community, and his rich commentary on SEO and digital marketing features in numerous publications, including Authority Hacker, SEMRush, and Foundr.
He also created Big Bamboo Marketing, a digital marketing and lead generation services agency for the construction and home services industries. Bradley and his team have helped numerous businesses grow their online visibility and traffic.
Bradley is a sought-after speaker and has presented at numerous conferences, including Webbython, SMX West, and Pubcon. He is also a frequent guest on podcasts and webinars.
He has an unmatched wealth of knowledge to share with his audience and is always up-to-date on the latest trends in SEO.
If you're looking for Bradley Benner, chances are he's somewhere ranking for SEO keywords. This Bradley Benner SEO guide will help you get to know the man behind Semantic Mastery.
Interviewing Bradley Benner
Semantic Mastery
Bradley Benner is the senior partner and co-founder of Semantic Mastery, a company specializing in training and education on search engine optimization (SEO) through the Semantic Mastery MasterMIND.
The company was founded by Bradley Benner and his partners Adam Moody and Christopher Pillwein in 2013.
Semantic Mastery has since grown from what used to be a Google Hangouts forum into a great SEO and marketing community that helps agency owners and SEO consultants know how to build and scale businesses through digital marketing.
Semantic Mastery teaches SEO techniques that Bradley Benner and his partners have tried, tested, and proved to work!
The Semantic Mastery MasterMIND By Bradley Benner
With everything changing so fast in digital marketing, most businesses find it hard to keep up with these changes and don't know how to respond to a constantly evolving digital environment.
Semantic Mastery MasterMIND gives you access to Bradley Benner and his co-founders so that you can have access to;
Case studies and results; that Bradley and his partners have done to test for what works vs. doesn't work in ranking websites and building businesses.
Long-term SEO techniques; you get access to top experts with a wealth of information and experience on proven, up-to-date traffic generation and SEO techniques.
Live Q&As and weekly webinars: you can ask all questions and have Bradley and his team respond directly.
Semantic Mastery gives you the leverage to fast-track your marketing skills and improve your results by providing a guaranteed roadmap to succeeding in your digital marketing efforts. You also access support and growth from the network of peers and mentors you come across in the Semantic Mastery MasterMIND.
Semantic Links
Semantic Links is a new white label link-building service by Bradley Benner that targets local SEO consultants and agencies.
Semantic Links provides fully managed custom link building for its customers, utilizing 100% unique and relevant content.
Google's Natural Language Process Algorithm, BERT, has become increasingly effective in identifying and devaluing backlinks from irrelevant sources.
This has made link building more difficult and costly for SEOs, as the old link buying tactics are no longer effective.
Other methods such as guest posting have become too expensive for most people, yet their effects are also reducing.
Bradley Benner's Semantic Links overcomes these challenges by providing a service that creates 100% relevant backlinks from sources whose topic relevance aligns with your niche.
Google's priority on topic relevance will continue to increase, making Semantic Links an essential tool for any serious SEO.
Mastery Links white label link-building service aims to be an unmatched service that capitalizes on topical relevance.
Mastery links will help you build backlinks from;
Clean sites with real organic traffic professionally built with quality content on specific business/ niche categories (necessary to avoid link atrophy).
Sites built with exclusive domains and have a Majestic Trust Flow score of 10 or more, a relevant history, and a clean backlink profile.
The white label link building services are entirely done for you in a three-step process that they follow:
Analyze your top 5 ranking competitors for your target search queries and create a report showing what you need to compete.
The second step involves creating a customized link-building plan for you and giving you specific timelines for delivery.
The final step is for Bradley to take action and do everything for you.
Bradley Benner Vettted Success
Since joining Vettted, Bradley has sold his white label link building to more than ten businesses and received a 100% rating with excellent reviews.
Bradley sold over $770 on his launch day at Vettted and has more than 16 orders waiting for his fulfillment. 30 days in and he has sold nearly $5,000 and has over 30 orders complete.
Even better, you can schedule a consultation call with Vettted's proprietary calling feature.
Why Vettted?
Vettted is a new freelance digital marketing and consultant marketplace that allows you to hire only the best talent in the marketplace today. Vettted only onboards pre-vetted digital marketers, ensuring that business owners have access to the best consultants and service providers in the market.
Vettted allows experts to earn 100% of their earnings and sell their time by allowing full branding beyond the Vettted marketplace for consultation.
If your brand or business is looking for trustworthy professionals who can guide them on SEO's best practices, then Vettted is the best place for finding thoroughly curated talent.